Standard ERP by HansaWorld
we are authorized HansaWorld deployment partner in Kenya, Uganda,Tanzania and Rwanda
Integrated business software for midsize and large companies
At its core Standard ERP offers the typical Enterprise Resource Planning (ERP) modules of accounts, order processing, stock, manufacturing and job costing. By offering a range of Contact Relationship Management (CRM) modules, such as email, document management, graphical calendars and schedulers, and a bulletin board, all in the same application, Standard ERP is able to deliver a unique level of interaction between its component elements. Standard ERP also provides a series of modules designed for specific industries, all with the same potential for interaction with other parts of the system. It uses an unrivaled range of technologies to extend the software availability throughout your organisation and beyond, at the same time reducing reliance on costly interfaces between applications thereby offering the lowest total cost of ownership available in the mid-range.
In addition to CRM, Standard ERP offers logistics and stock, mobile and WAN access, plus a large selection of vertical solutions.
Supports MS SQL or Oracle databases
Includes web shop and corporate portal
Standard ERP can be run on all major platforms: Windows, Mac, Linux and IBM, plus PDAs and Nokia business phones. It supports multiple currencies and consolidation of data from different companies.
Worldwide, Standard ERP has been installed at over 78,000 businesses with up to hundreds of concurrent users.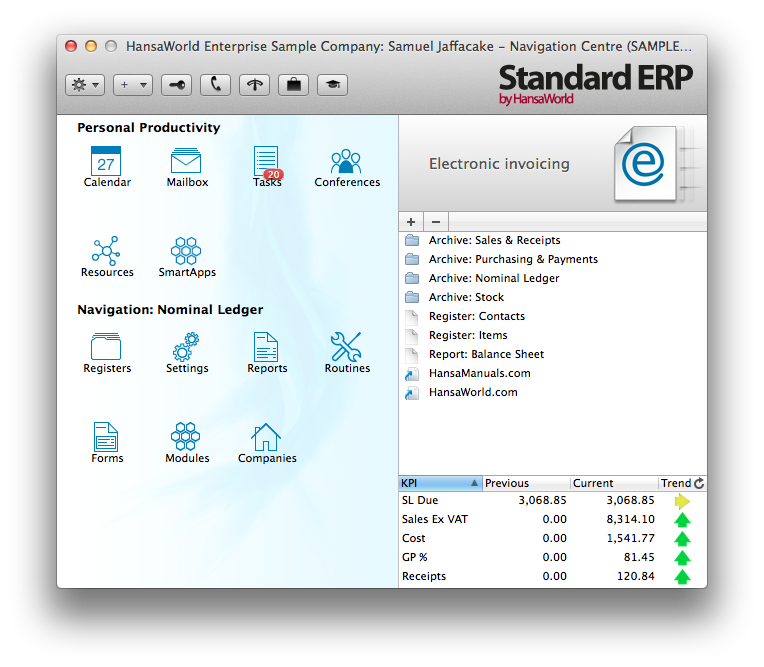 Main window of Standard ERP
Integrated software approach
HansaWorld's integrated approach means that information is stored in one database, thus all parts of the system are connected by default and there is no need to interface different applications to work together. As your business grows, Standard ERP can be expanded by adding new modules to your integrated business software suite.
The selection of features ranges from e-mail, tasks and a multi-user calendar to e-commerce solutions for example taking orders from customers via your website. You can find more information by selecting Solutions from the left menu or by downloading the product brochure.
Mixed platform
You can mix and match different operating systems in your implementation. The server can be run on various compilations of Unix, Linux, Apple OS and Windows, and users can log in on Windows, Apple OS, Linux, web browsers and on a range of mobile devices.
Wide-area networking and mobility
As the fastest modern business management solution on the market, it is simple to run Standard ERP from multiple locations, from home or when mobile, without terminal emulation or other third-party solutions. If you want real-time management reporting across many shops, offices or companies, look no further. Standard ERP has written versions to run on mobile devices, such as Nokia smartphones, PDAs, tablets and iPhones.
Interactive CRM
Remind yourself of outstanding tasks by linking the notes of when the task needs doing to the relevant record, to assist with chasing invoices, following up suppliers, closing sales and working on jobs. Use HansaWorld Standard ERP integrated workflow to trigger additional working steps such as follow-ups or authorisations, or automated SMSs, on-screen messages or emails - to highlight exceptions that need authorising, to notify project managers that budget has been used up, or to notify a customer that their order has shipped.
Interactive verticals
HansaWorld's software has written modules for specific industries right into the Standard ERP code, so that each specialist component can interact with the standard ERP and CRM features.
Consolidation and international features
Enter transactions in any currency you like. Standard ERP supports not only Multi Currency but also Dual Base Currency. The difference between Multi Currency and Dual Base Currency is the fact that with a Dual Based system each transaction will be stored in two different Base Currencies with the correct exchange rate at the date of the transaction. This allows companies to report on transactions without revaluing the transactions in the secondary currency.
Analysis and Business Intelligence
Mark each line of every transaction with anything up to 15 levels of analysis. This enables you to measure the turnover and profitability of almost every conceivable facet of your business, from the marketing source of business through sales and profit by region, customer type, shop, profit centre, job, product range, and individual product. With such rich data, it makes sense to have graphical analysis and dashboards, which HansaWorld offers through the SmartView module - this provides real-time business intelligence without the need for lengthy data preparation.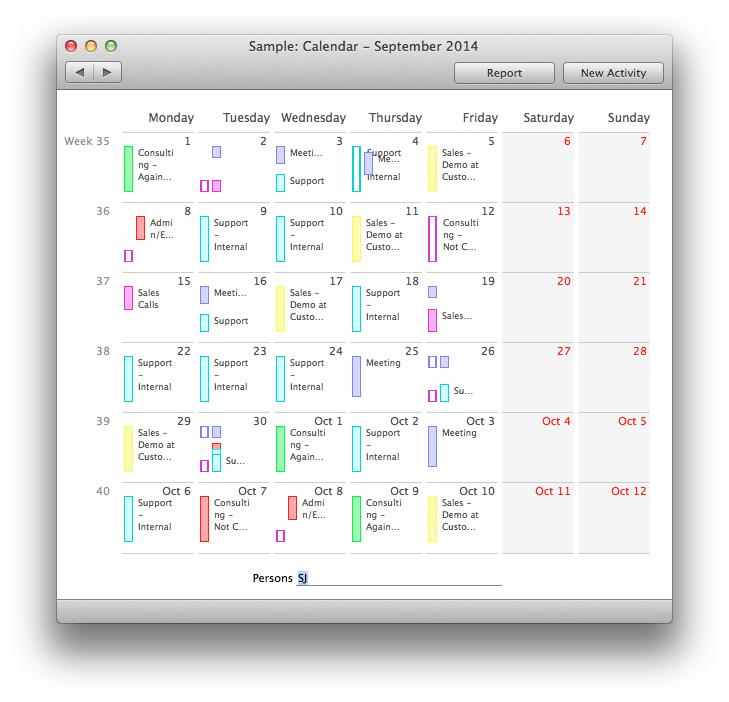 Calendar activities in Standard ERP
eBusiness
Standard ERP has a real-time web engine that allows you to create websites quickly, and make changes to the content in minutes. There are templates for text and picture-based websites and webshops, supporting customer-specific views of the website, flexible item groups, and even multiple languages. Other external parties can be given web browser access to any part of the system.
Customisation
Let our professionals adapt Standard ERP to your specific requirements using HansaWorld's Hansa Applications Language (HAL). These changes are made directly in the application rather than using a toolkit to link a separate application - consistent with our overall strategy of enhancing the level of interaction between each component of the software.
Third-party services
HansaWorld offers to its customers a unique combination of third-party services, without the need to install external software. HansaWorld has installed these services on its own servers, and has developed technology for allowing your server to use these services on an as-needed (per click) basis. For example, use single menu selections to:
research a customer's credit history
enter addresses automatically from post codes or zip codes
process credit card transactions
track the progress of deliveries via your shipper
automate eInvoices
send SMSs
submit tax returns
submit banking files